Hardware
Motherboard
There are 3 known revisions of the motherboard:
HAC-CPU-01 (Launch)
HAC-CPU-10
HAC-CPU-20 (Earliest manifacture date seen: 26/10 2017)
What actually changed between different revisions is unknown.
Specifications
Type
SoC
NVidia ODNX02-A2 (See also here)
Screen
6.2-inch, multi-touch capacitive LCD screen
Storage
Samsung KLMBG2JENB-B041 32 GB eMMC
or
Toshiba THGBMHG8C2LBAIL 32 GB eMMC
Wifi/BT
Broadcom BCM4356XKUBG
PMIC
Maxim Integrated MAX77620AEWJ+T
Audio
Realtek ALC5639
Front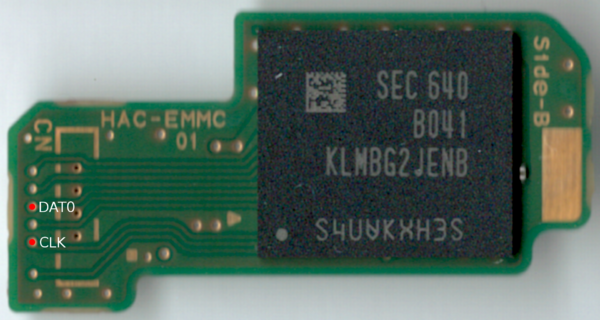 Back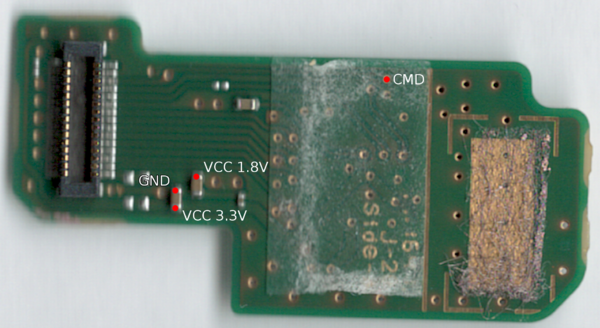 Supply power via the VCC 3.3V and 1.8V pins, and solder the CLK, CMD, and DAT0 pins to an SD Card reader in order to extract the data off the eMMC chip.
eMMC Connector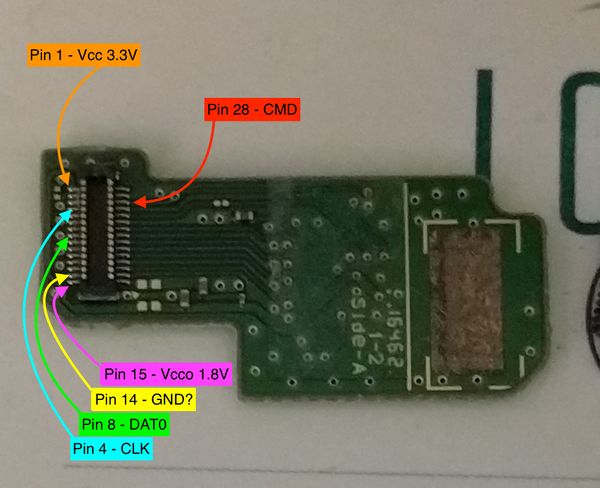 The eMMC connector plug on the board mates with the receptacle on the Switch motherboard. The receptacle is a Molex 5009130302, and is available from retailers such as Digi-Key.
Notes
1. https://www.sosav.fr/guides/consoles/nintendo/nintendo-salon/nintendo-switch/demontage-complet/
2. https://www.ifixit.com/Teardown/Nintendo+Switch+Teardown/78263